Denver (-3) @ San Diego - O/U 44.5
After blowing a fourth quarter lead for the
third time
(in five games), the Chargers find themselves at 1-4 with basically no chance to make the playoffs. It sucks to see another year of Philip Rivers in his prime go to waste. Mike McCoy is coaching on borrowed time and it's unlikely he makes it through the season unscathed. The franchise has advanced in the postseason just once since 2008, and it makes you wonder what Rivers' career could have looked like if he was surrounded by more talent, like his
2004 draft class counterparts
.
The Broncos defense finally looked mortal last week against Atlanta after wreaking havoc on opposing offenses during the first quarter of the season. The game script got away from them early as Denver was unable to ease their rookie QB into his first career NFL start. Granted this won't be a common occurrence considering the elite status of their defense, but it's reasonable to wonder if this team is capable of playing from behind given their inexperience at the quarterback position. While Trevor Siemian has been solid thus far, he's still in his first season as a starter and it remains to be seen whether he can shoulder the load for an entire season.
Cincinnati @ New England (-9) - O/U 47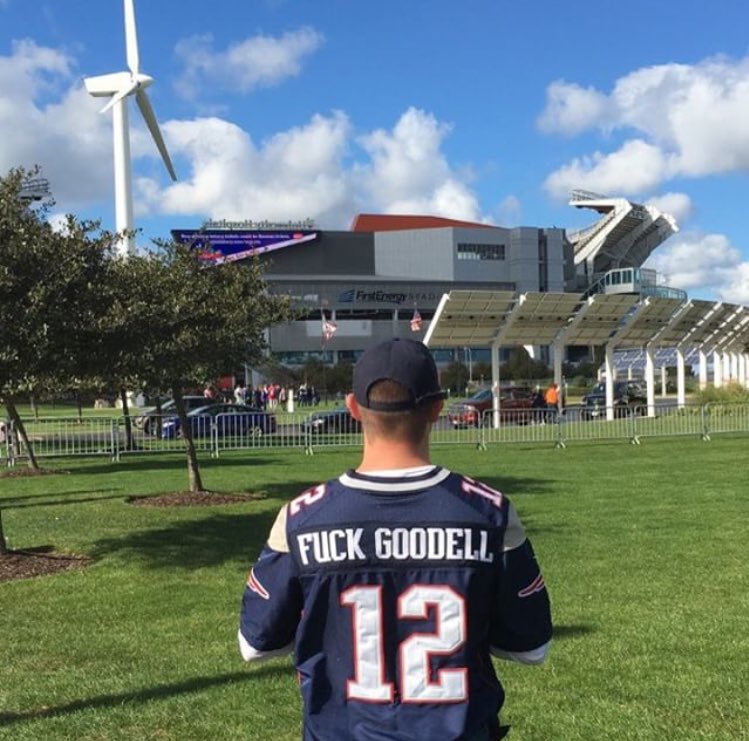 Last week I suggested Tom Brady might be rusty coming off his suspension and the Browns-Patriots game would be closer than most expected.
Spoiler Alert: That was not the case.
Brady came out of the gate with a vengeance and torched the Browns for over 400 yards. The Ugg Sponsor/Golden Boy/Future Hall of Famer basically gave the middle finger to the entire NFL in his 2016 debut.
Baltimore @ New York Giants (-3) - O/U 43.5
Coming into the season, I honestly thought Eli Manning was a dark horse MVP candidate. While Eli missed plenty of throws on Sunday night, it was obvious he didn't trust his offensive line and never got comfortable in the pocket. Second-year left tackle Ereck Flowers had a particularly rough night in pass protection and proceeded to take his frustration out on a
reporter follwing the game
. After opening the season 2-0, the G-Men have dropped three straight and find themselves occupying the NFC East basement.
San Francisco @ Buffalo (-8) - O/U 44
Colin Kaepernick is back under center for the first time since Week 8 of last year. Although San Francisco didn't have high expectations coming into the season, it's somewhat puzzling why it took so long for Chip Kelly to give his dual-threat quarterback the starting job. Whether it was the
contract situation
or off-season shoulder surgery, there was a reason why Blaine Gabbert started the team's first five games. With a 1-4 record and Kaepernick's contract restructured, the 49ers have literally nothing to lose by rolling the dice with their embattled signal caller.
Kansas City @ Oakland (-1) - O/U 46.5
On the surface this line seems pretty fishy. Despite being 4-1 and playing at home, the Raiders are barely favored against a 2-2 Chiefs team. Granted this is a divisional game and Kansas City is coming off a
bye
, but the market clearly doesn't respect the Raiders.
By digging a little deeper, we can see that Oakland has the worst defense on a
yards-per-play basis
and won their four games by a combined 12 points. It's good to see the Raiders become relevant again after years of mediocrity, but the jury is still out on whether this is an upper-echelon team.
Indianapolis @ Houston (-3) - O/U 46.5
After receiving a four-year, $72 million contract (with $37 million guaranteed), Brock Osweiler has looked nothing more than a fringe starter through his first five games in Houston. Luckily for the Texans, they play in the AFC South, which is the worst division in football. After an ugly road loss to Minnesota, this appears to be a nice 'get right' spot at home against a middling Colts team. From top to bottom, Indianapolis has the least talented roster in the league as far as I'm concerned. It's hard to imagine how awful this team would be without Andrew Luck under center.
P.S.
This is a bit off topic, but if you haven't grabbed this exclusive mixtape yet, make sure to stop at the nearest Sam Goody and snag one.
— B-Wobbit (@World_Wide_Wob) October 10, 2016